"Show me anything EXCEPT a red lehenga" is one of the most commonly heard statements at any Bridal store these days. We totally get why though there is something fresh and girly about a soft pink, something modern about gold, and earthy about an orange that is just so hard to resist! So while you are on your bridal outfit hunt, here are a few things to keep in mind according to your skin tone.
Cool vs Warm Skintone
Well- so an easy way to test whether you are cool or warm-toned skin is to look at your veins under your wrist. Do they appear greener than blue- honey yr a warm-toned diva? If they appear bluer, then you are a cool-toned cutie. Warmer skin is more yellow-coloured (think Anushka Sharma), while cooler skin is more pink coloured (think Kareena Kapoor). In general, most Indians have warm skin tones with a few exceptions. A general rule is – cooler skin toned girls look good in cooler shades and so on.
Cool, Pale skin tones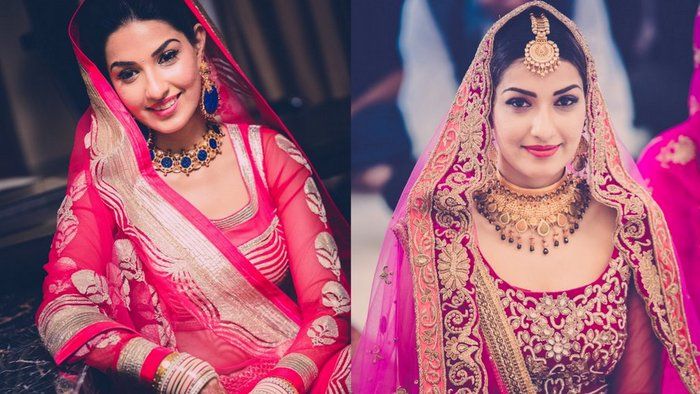 Colours to pick: Brights, Pastels with some pigment, deep jewel tones.

Colours like Raspberry Pink, bright blues, bright sorbet shades of pink, lime green  etc
Softer colours which have some pigment in the light pink, peach, mint green also look absolutely lovely as long as they are not too washed out.
Deep Jewel tones like Wine, Pomegranate, Emerald Green, Midnight Blue are lovely against cool, pale skin tones
Any type of blues always look lovely

Colour to avoid: Tangerine oranges, tomato red, beige

Bright, tangerine orange or tomato red. While a peachy orange may work, as will a rust orange or a deep red, or rose red-   a bright neon orange or tomato red is overwhelming on cooler skin tones
Beige may wash out your skin tone and it doesn't photograph well either
---
Warm, Medium Skintones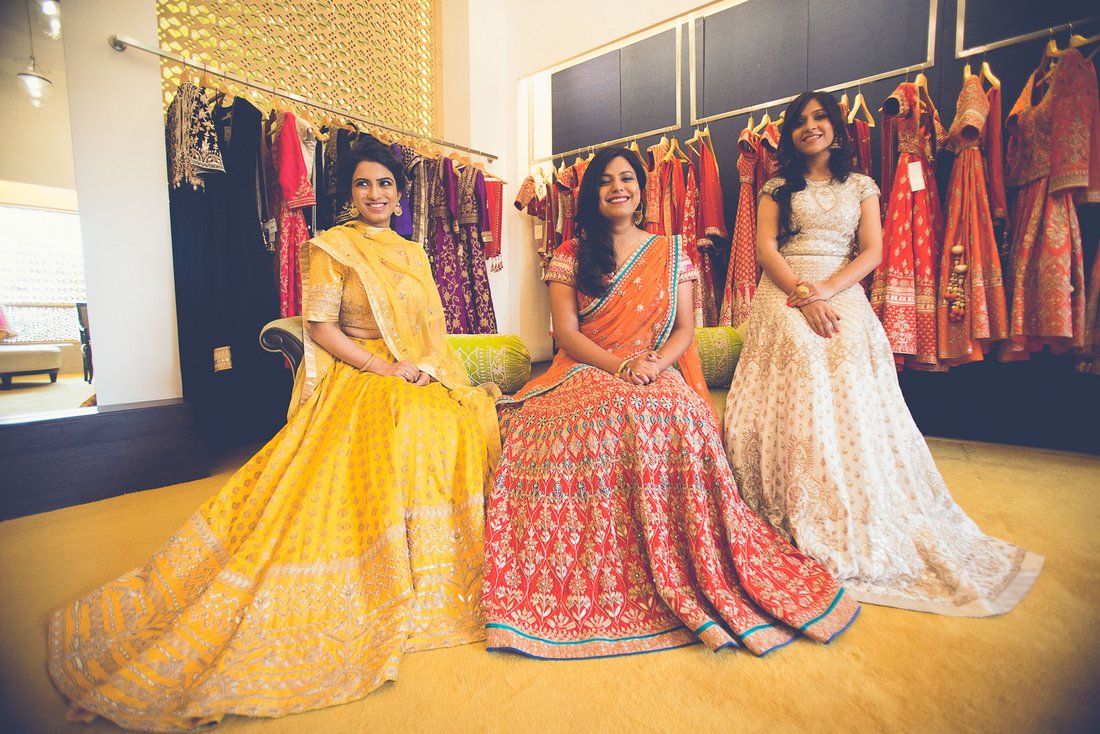 See how gorgeous the yellow and the orangey-red looks? The cream is stunning as an outfit too, but the face appears brightest in the other two colours.
Colours to pick: Any fire shades (Orange, yellow-red), Hot Pinks, Peaches,  Corals 

Lots of Corals, Oranges,  Saffron yellow (YES Yellow), Red, Rust, Hot Pink, Peach and anything else that brightens up the face instantly. Think of any colour with just a tone of orange or peach- it would look fab!
Some earthy and medium-toned jewel colours  dusty pink, a brighter medium-toned emerald green rather than a very dark emerald colour,  Royal blue rather than a midnight blue

Colours to avoid: Beige, Gold, Purple, Very dark blues and greens

Neutral colours like beiges and gold wash you out, as will ash grey and the like and end up looking dull on camera
Dark colours like purple, midnight blue and very deep greens also add darkness and dullness to your face.
---
Olive skin tones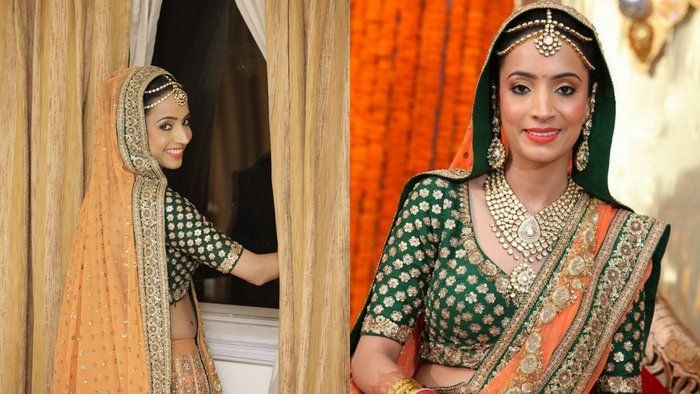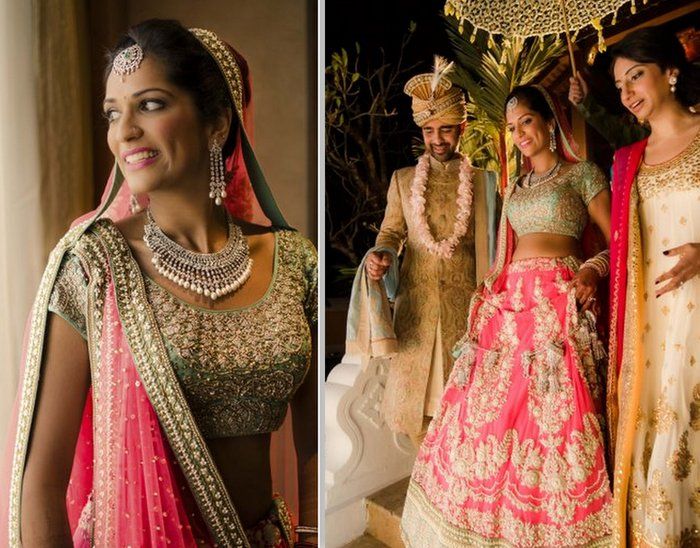 Colours to pick: Warm Pastels, Pale Gold, Burnt Oranges, Emerald green, Dusty pinks, Peach family

Pastels look absolutely gorgeous. It's so surprising that most darker girls feel pastels don't look good on them. But put a beautiful mint green or a warm pastel pink against your skin tone and it absolutely radiates as does dusty pink. Icy cool pastels should be avoided but most of the others – go for it!
Burnt orange is an absolutely terrific choice for a bridal lehenga for you guys as are medium-toned warm pinks and corals.

Colours to avoid: Wine, Neon colours, Tomato Reds, Copper, Yellow Gold

Well…red. Not all reds but a lot of cool-toned, maroon reds in the markets can be overpowering. Look for orange-reds or muted reds which look great against your skin tone.
Neon-ish colours. While neons may work against dark skin tones abroad, in Indian bridal outfits with the number of elements on you- darker girls should avoid the ultra-bright colours.
How seriously should you take this guide
Well, honestly not very. Yeah we know- we gave all this Gyaan and now we tell you to ignore it? Not really..
Say you are darker skin tone and you love neon, hot pink. You can wear a neon pink skirt but keep the blouse a different colour since its closest to your face. Apply the guide to items that are closest to your face, and play around with colours on the rest of the outfit.
More important than the colour of your outfit is going to be the colour of your makeup. Even if your outfit totally washes you out, just a prop of brightness and warmth in your makeup can instantly transform how you look.